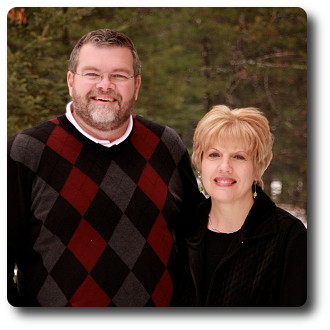 Commissioned by First Baptist Church of Eaton Rapids, Randy and Connie were on staff for three years during the 70ís and returned in 1984. Randy directs maintenance, construction, and transportation. Connie serves as campís registrar. They have five adult children: Dayna, Megan, Emily, Lindsey, and Luke.
Email: rwharris55@yahoo.com
Web: Facebook
Randy and Connie Harris
(May 13, 2013)
Greetings from Camp Barakel!
Nothing like snow in May! It seems as though March and April were more like winter than January and February.
This past weekend we had a couple of guys here from Illinois to lay the carpet in the East Side Dining Hall. This completes the project. We are delighted that God blessed our efforts! We still need to get tables set back up, but the construction has come to a close. The kitchen is back in order, and we anticipate using it next weekend for our Men's retreat. Next week officially begins our camping season. After the Mother-Daughter and Men's retreats, we have Memorial Day Family camp. Then counselors arrive to begin two weeks of training. There are still many openings for summer camp. You can go to Camp's web site to get the details.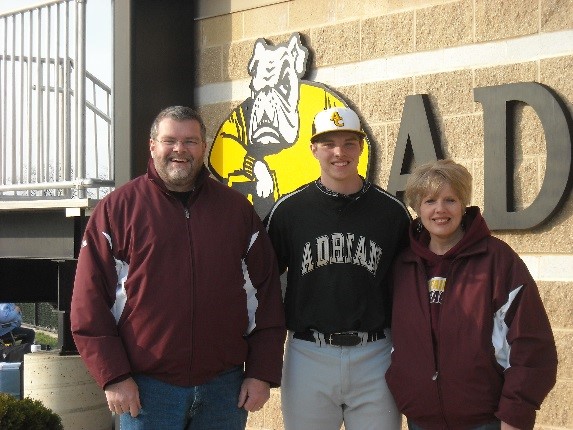 We were able to make it to Luke's last game. We went to a couple of games earlier but never got to see him get in except to bat. This time he played for a few innings with a couple of at bats. It was fun to see him in action. We also brought some of his possessions back home with us. The school year went very well, and overall he had a great college experience. His summer plans are to play baseball in Grand Rapids.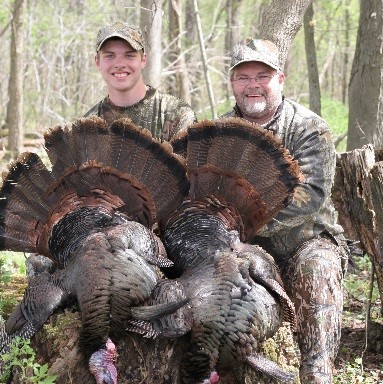 Luke and Randy also got a little turkey hunting in with some friends down state. Needless to say they had a great hunt!
Even though it feels like winter, summer camp is just around the corner. We know that God will continue to use this place to reach many lives for Himself. We look forward to being part of that process. We are also grateful for the opportunity to serve at Camp. We hope to see some of you over the next few months. Please make sure you grab us to say hi. Sometimes in the process of a busy week or weekend it is hard to make connection, but we sure would like to. Thank you for your faithful support to our family and ministry. We look forward to eternity to see the fruits of our labor.
Serving the Savior,
Randy & Connie